Introduction :ญญญ
The Training & Placement Cell of Gyan Ganga Institute of Technology & Sciences, Jabalpur established in 2003 facilitates the process of placement of students passing out from the Institute besides collaborating with leading organizations and institutes in setting up of internship and training program of students.


The Cell interacts with many industries in the country, of which huge number of companies visit the campus for holding campus interviews. The industries which approach the institute come under the purview of :
Core Engineering industries IT & IT enabled services
Manufacturing Industries Consultancy Firms
Finance Companies Management Organisations
R & D laboratories, etc


OBJECTIVES :
• To achieve maximum possible placements for the students.

• To guide students on interview techniques, group discussions, aptitude tests.
• To enlist Gyan Ganga Group of Institutions on the lists of all top companies of India.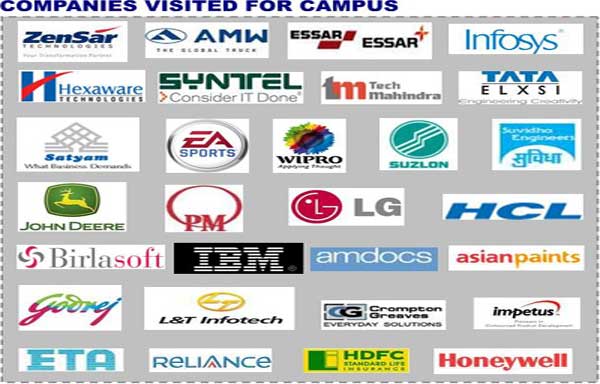 HCL INFOSYSTEMS LTD. : HCL-K2 Academy to impart industrial training and personality development programs.
HEXAWARE TECHNOLOGIES LTD. : Hexaware Academy Centre for Excellence (HACE) for education & research activities.
ZENSAR TECHNOLOGIES LTD. : To impart training to the students under Centre of Excellence for business innovation.
SHRIRAM VALUE SERVICES (P) LTD. :Active Centre for Campus Recruitment Process for whole district.
ORACLE CORPORATION (India) : Authorized Partner under ORACLE University for Work Force Development Program.
MINDONE CONSULTING – Chandigarh, BLUE LOTUS – Chennai, GLOBAL TALENT TRACK – Pune & CAREER SEEKERS – Jabalpur : For imparting Soft Skills and Programming skills.
IBM-DB2 PROGRAM : Nodal Training Centre for offered under the finishing school concept of Rajiv Gandhi Technical University, Bhopal
SAP INDIA : Educational partner for offering SAP ERP training.
MICROSOFT : The Institute has MSDN Academic Alliance with MICROSOFT Corp.
SAI LEARNING FOUNDATION, FARIDABAD : For imparting Business Management Skills and Ethics in Business.
The institute has tie-up with some major core companies like BSNL, BHEL, MPPGC, NTPC, Airtel, ONGC etc. for providing industrial training to the students